Sciatica is a common type of pain that affects the sciatic nerve, which runs from the lower back down the leg. The pain can be caused by a variety of things, such as a herniated disc or spinal stenosis. Walking can aggravate the pain, and it can sometimes be difficult to find relief. However, there are some things that can be done to help ease the pain and make walking more comfortable. In this blog post, we'll explore some of those options.
The Sciatic Nerve
In order to understand how walking can lead to sciatica pain, we must first understand a little more about the sciatic nerve. The sciatic nerve is made up of nerve roots from L4-S3 and begins where these nerve roots converge into one single nerve that runs from the lower back, through the buttocks, and down through the leg and into the foot. Sciatica refers to an uncomfortable feeling that radiates along the sciatic nerve.
Symptoms typically occur only on one side of the body and can include:
burning or shooting pain that starts in the lower back and spreads outwards into one or both legs
numbness
tingling
weakness
These symptoms may also get worse from certain postures such as sitting, rising to stand, twisting, bending forward, coughing, or laying down.
Sciatica is considered a symptom, not a condition, and it can arise due to a variety of causes, such as:
muscle imbalances or spasms
herniated discs
arthritis in the spine
bulging disc pressing on the nerve roots
spondylolisthesis
spinal stenosis
sacroiliac joint dysfunction
In many cases sciatica symptoms are treatable through a combination of lifestyle modifications such as regular exercise, physical therapy, and medications. In fact, low-impact aerobic exercise is commonly recommended to help alleviate sciatica symptoms.
How Walking Helps Sciatica
For those who are suffering from sciatica, exercise may be the last thing on your mind. However, studies have shown that walking can help reduce pain and inflammation associated with sciatica. Taking regular walks, even 20-30 minutes a day, helps improve flexibility in the lower back and legs, and is an excellent way to improve the circulation of essential fluids and nutrients in the body. By improving blood flow throughout the body, it can help you to counteract the effects of aging, as well as increase recovery time and reduce muscle soreness. Additionally, regular walking strengthens the muscles in your hips which helps to support your spine which may help alleviate symptoms of sciatica in the long run.
When Walking Hurts
Although walking has been shown to be an ideal way to alleviate sciatica pain, there are some cases where walking can also cause or worsen sciatica pain. Of course, this makes it hard to want to keep walking. Unfortunately, however, a lack of physical activity will also contribute to worsening sciatica symptoms.
Walking can actually be a cause of painful sciatica because walking can exacerbate pressure on the sciatic nerve. The good news is paying attention to your form while you walk can help decrease your chances of developing sciatica pain. Here are some tips:
Check Your Walking Posture
Walking is one of the simplest, most accessible forms of exercise out there – and if done correctly, it can be immensely beneficial for those dealing with sciatica pain. For best results, however, it is important to pay attention to your body's alignment while you are walking, ensuring that any unnatural postures can be avoided. This is because incorrect walking posture can actually cause the lumbar discs to compress and exert more pressure on the sciatic nerve, which then causes irritation and pain.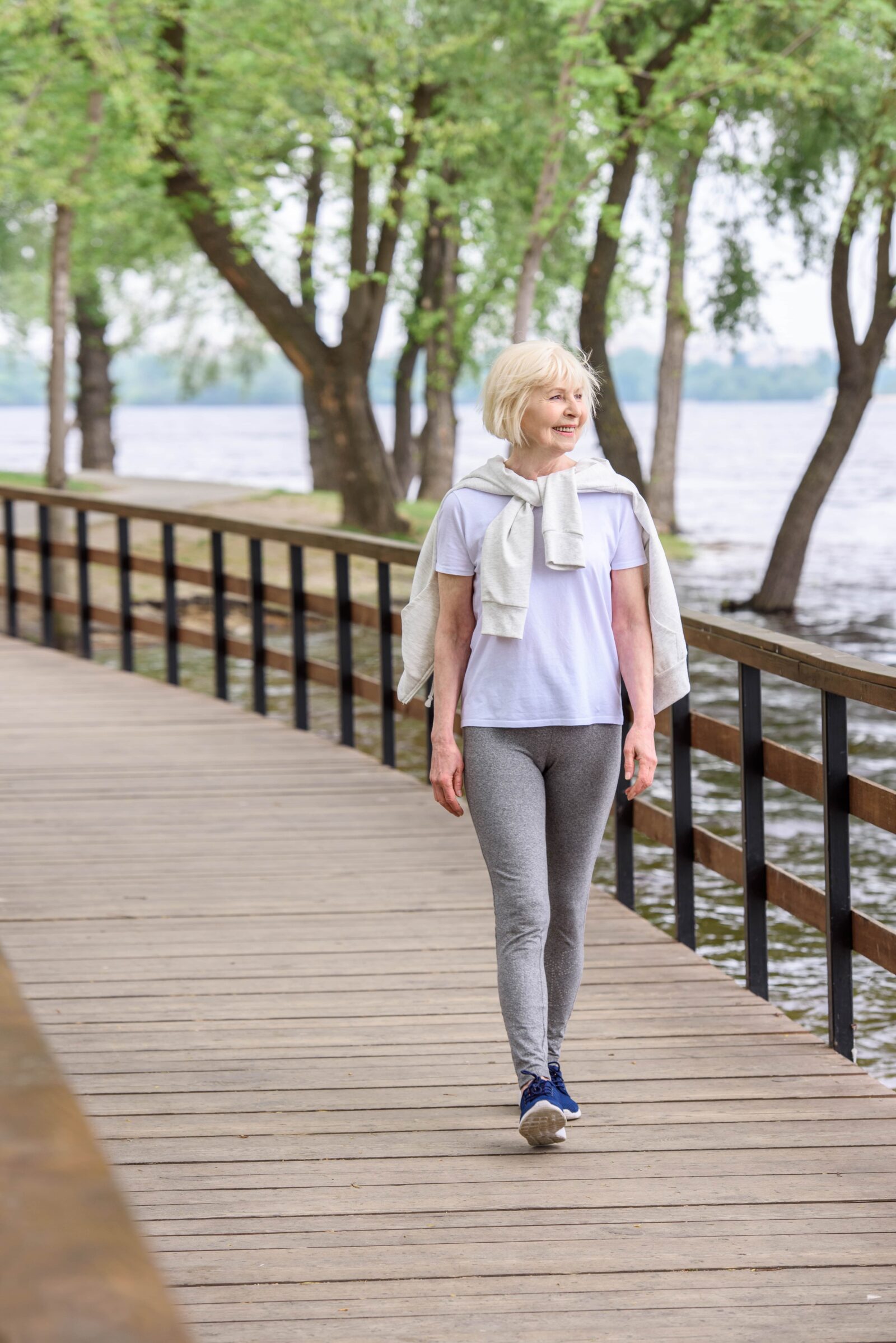 Feet should remain flat on the ground throughout, striking between your midfoot and heel first with each step. Landing between your midfoot and heel, and then rolling onto your toes helps promote a full-body approach to balance and rotation of the torso and hip joints as you move.
Another way to think of this is to take shorter strides and to avoid "reaching with your toes" while walking. Additionally, avoid walking on slippery surfaces and practice good posture – shoulders down and relaxed instead of hunched up around your neck – as much as possible. All these small tweaks can help relieve sciatica pain significantly when incorporated into your daily walk routine.
Engage Your Core
Engaging your core while walking is a great way to help relieve sciatica pain. This is because engaging the core muscles helps to decrease the amount of pressure being exerted on your spine. While walking, you should be sure that you hold your head up and look where you are going. Then, you will want to gently pull your stomach inward while walking to keep your core muscles engaged.
Watch Your Speed
Another way to alleviate sciatica symptoms while walking is to watch your speed. Walking too fast can exacerbate sciatica symptoms. Walking too fast can also make it difficult to engage your core muscles. Therefore, you will want to walk at a slower pace. Like mentioned above, you will want to take shorter strides, which will naturally slow your walking pace. You are walking at an ideal pace if you are able to comfortably have a conversation while walking.
Stretch
In addition to walking, it can also be beneficial to stretch your hamstring and hip flexor muscles. This is because tightness in these muscles affects the alignment of the pelvis and spine, which can contribute to sciatica pain. In fact, tight hamstring muscles can cause the pelvis to tilt forward and the curvature of the lower spine to increase. Therefore, stretching the hamstrings can help maintain proper skeletal alignment, which can reduce pressure on the spine and alleviate sciatica pain.
Breathe
Breathing is a simply and effective way to alleviate pain, yet it is often overlooked. While walking, it can help to stop or sit down and just breath deeply for a few minutes. Deep breathing helps to reduce stress and tension in the body, as well as releases endorphins to aid in pain relief.
In Conclusion
Walking can be an excellent form of exercise for those suffering from sciatica pain, but it is important to pay attention to your walking posture and speed. Additionally, engaging your core muscles, stretching the hamstring and hip flexor muscles, and taking time to breathe deeply can all help reduce sciatica symptoms. Remember to listen to your body and never push yourself too hard. With a little patience and practice, you can use walking to find relief from sciatica pain.